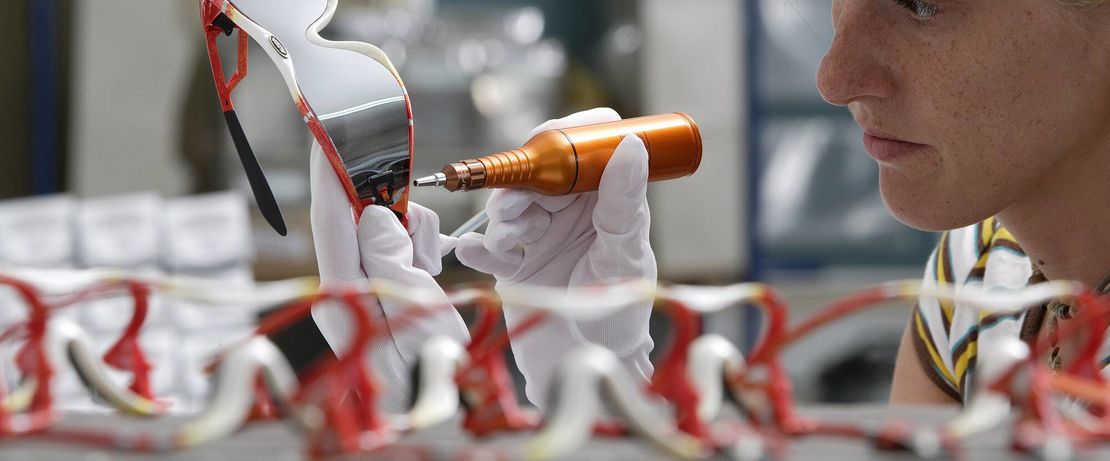 ALL CONVENTIONAL METHODS
reliable in handling, versatile in design
Thanks to its structure and good thermal resistance, TROGAMID® offers an extraordinarily wide processing range. Whether in injection molding or extrusion, we can support you with the expertise acquired in our test centers. Talk to us!
Transparent sheet and top quality film
TROGAMID® compounds can be processed on conventional three-zone screws with a minimum length of 24 D to produce films and sheets. Other screw designs, such as barrier screws, can also give good processing results.
From oil filter to designer glasses
TROGAMID® compounds are best suitable for precision injection molding of, for example, decorative filigree eyeglass frames, safety parts like oil and water filter cups, as well as housings of electrical relays.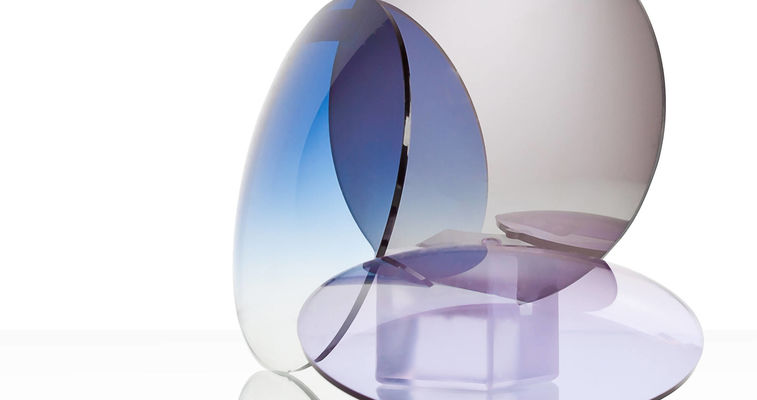 COLORING
TROGAMID® is best colored with color concentrates based on identical TROGAMID® resins. Dry coloring by tumbling with finely powdered pigments is another possibility but it is inconvenient, as pneumatic conveying is impossible. The use of color pastes or color concentrates having a "neutral" (e.g. PE) base can lead to incompatibility with TROGAMID® and hence to poor part properties (poor weld line strength or low transparency due to clouding). Therefore, prior testing of compatibility is absolutely necessary.
EYEGLASSES LENSES
Lenses made of TROGAMID® myCX can be tinted in dipping baths without a problem. The adhesion of the color system is so good that not even further mechanical processing will cause discoloring. This makes it possible to machine tinted lenses without trouble. The system also remains resistant to stress-cracks.
PRINTING
Most printing inks can be used for sublimation printing TROGAMID® parts. Screen inks must be adapted for use with TROGAMID® compounds. Preparation of the surface by flame treatment, roughening, or corona treatment generally results in improved adhesion of the printing inks. Adhesion can also be improved after printing, by flame treatment or tempering.
In addition to tinting, optical applications also often require surfaces to be modified:
Improvement of scratch resistance through hard coatings
Antireflection coating
Filter functionalities
The Fraunhofer Institute for Applied Optics and Precision Engineering (IOF) in Jena, Germany, tested TROGAMID® myCX in a low-pressure plasma process and verified its excellent adhesion properties and the high stability of its coatings. TROGAMID® myCX met the adherence requirements according to ISO 9211-02003, "Tape Test, Snap." The system is stable against environmental exposure in the temperature range of -10°C to 70°C (ISO 9022-2).
This makes TROGAMID® myCX particularly suitable for the plasma-ion assisted deposition of multifunctional optical interference coatings, for example
scratch-resistant antireflection coating AR-hard® (1 to 3 μm thickness)
AR-hard combined with UV cut-off filter
antireflection for laser wavelengths
beam splitter coatings
LASER-PROCESSING
TROGAMID® compounds can be marked permanently by laser-marking. Product labeling, whether of quality- or production-related information, and whether in cursive writing or as data code, is achieved with extremely high reliability. Mistakes and forgeries are virtually impossible.
LASER-MARKING OF NON-TRANSPARENT PLASTICS
Exceptionally good contrast in the laser-marking is achieved when TROGAMID® compounds incorporate a special additive developed and patented by Evonik.
In non-transparent plastics, these laser additives ensure dark markings of the highest quality on almost all light-colored formulations, irrespective of the pigmentation of the plastic and even for in-house coloring by customers. Additionally, Evonik offers various dark colored and black products that can be laser-marked in light colors with good contrast.
LASER-MARKING OF TRANSPARENT PLASTICS
Laser-marking of transparent plastics has so far been restricted to colored thermoplastics. Evonik has developed a technology for laser-marking transparent plastics, which are otherwise difficult or impossible to mark with lasers. There are specially modified TROGAMID® CX grades that can be marked by laser, or also welded by laser, transparent-to-transparent, without affecting their optical properties.
The process uses nanoscale metal oxides, which, on account of their small particle size, do not scatter visible light but absorb the wavelength of the laser in the near infrared (NIR) region. If a laser beam now falls on the metal oxides, they absorb the energy and heat their immediate environment, which results in foaming (by formation of gaseous degradation products in the micrometer region) or carbonization (degradation to carbon). The result is a locally confined change of refractive index, rendering the marking, such as an inscription, visible. The additives do not produce a color change, but appear in a shade of gray ranging from white to black, depending on the choice of laser parameters. In TROGAMID®, markings can be obtained with layer thicknesses of less than 100 micrometers.
ADHESION
Adherent surfaces should be kept clean. The use of mold release agents should be avoided in production of molded parts that are subsequently to be bonded. Moreover, the bonding strength is improved if the surface is pretreated by roughening, primer application, or corona or flame treatment. For information about suitable adhesives please contact us.
INMOLD-LAMINATION AND OVERMOLDING
TROGAMID® TCR films can be in-mold laminated by injection with the usual injection molding compounds if appropriate adhesion promoters are used. Particularly low-stress components can be produced by combining TROGAMID® TCR films with TROGAMID® CX molding compounds. For overmolding of the film, the optical grade TROGAMID® myCX is recommended.
WELDING
All established types of welding technologies can be applied on TROGAMID®; typical technologies used are hot plate welding, ultrasonic welding, friction welding or high frequency welding.
SCREWING
Due to its good stress cracking resistance TROGAMID® parts can easily be screwed. Eyeglasses manufactures, for example, use screws also made from TROGAMID® CX for this purpose.