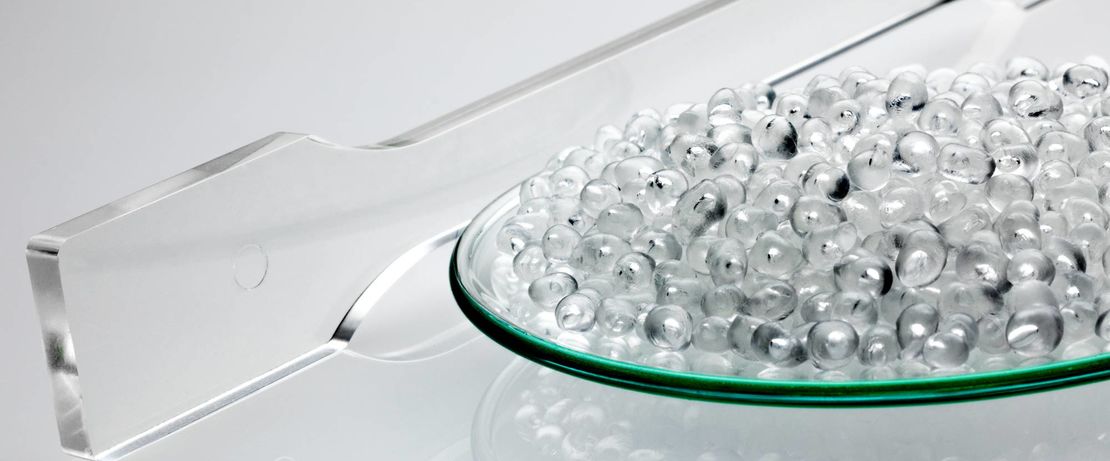 Press release
TROGAMID
October 15, 2019
K 2019
Evonik has developed a highly transparent polyamide based on new monomers
Evonik adds to the TROGAMID® product group a new transparent polyamide with a high glass transition temperature.
Evonik has developed a highly transparent polyamide based on new monomers, which combines a relatively high heat deflection temperature with good mechanical properties and low water uptake. TROGAMID® HT is thus ideally suited for high-end ATEX applications in the higher temperature range.
In the past it has been difficult to develop certain industrial applications for transparent polyamides due to their inadequate high-temperature resistance. But with TROGAMID® HT Evonik is now launching a novel polymer with a glass transition temperature of 172°C, which is 30°C above that for comparable TROGAMID® products and therefore ensures high heat resistance.
Transparent polyamide with a host of advantages
A water uptake of lower than two percent confers outstanding dimensional stability; the very low density of 0.98 g/cm³ helps save weight. Excellent chemical resistance, high static and dynamic load capacity and wear resistance, high impact resistance, good weathering resistance, and scratch resistance open up many new applications in electrical and mechanical engineering and the automotive and sanitation industries.
TROGAMID® HT has already proven its worth as a high-performance material in advanced heating installations offering high quality and operational reliability. Components made from the high-transparency polymer from Evonik ensure optimal visual control by staff and have good dimensional stability even at high temperatures.
Material for composite applications
Due to its high softening temperature and excellent ductility, TROGAMID® HT has proven useful as an impact-resistance modifier for epoxy resins in composite applications in the aviation industry. The use of TROGAMID® HT powders in conventional matrices significantly improves fatigue behavior and crash resistance and reliably prevents typical defects such as microcracks.
TROGAMID® is a permanently transparent polyamide from Evonik that has proven its worth over many years in the sports, leisure, and automotive industries as well as in mechanical engineering, medical technology, and optics. Due to rising global demand for high-performance polymers, the specialty chemicals group is expanding TROGAMID® production in Marl Chemical Park. The expansion is expected to be complete in the first quarter of 2020, enabling Evonik to double its capacities for the transparent high-performance polymer.
Learn more about high-performance materials and additives from Evonik at
our booth, B28 in Hall 6, at the K-Messe in Düsseldorf between October 16 and 23.
Company information
Evonik is one of the world leaders in specialty chemicals. The focus on more specialty businesses, customer-oriented innovative prowess and a trustful and performance-oriented corporate culture form the heart of Evonik's corporate strategy. They are the lever for profitable growth and a sustained increase in the value of the company. Evonik benefits specifically from its customer proximity and leading market positions. Evonik is active in over 100 countries around the world. In fiscal 2018, the enterprise with more than 32,000 employees generated sales of €13.3 billion and an operating profit (adjusted EBITDA) of €2.15 billion from continuing operations.
About Resource Efficiency
The Resource Efficiency segment is led by Evonik Resource Efficiency GmbH and produces high performance materials and specialty additives for environmentally friendly as well as energy-efficient systems to the automotive, paints & coatings, adhesives, construction, and many other industries. This segment employed about 10,000 employees, and generated sales of around €5.5 billion in 2018 from continuing operations.
Disclaimer
In so far as forecasts or expectations are expressed in this press release or where our statements concern the future, these forecasts, expectations or statements may involve known or unknown risks and uncertainties. Actual results or developments may vary, depending on changes in the operating environment. Neither Evonik Industries AG nor its group companies assume an obligation to update the forecasts, expectations or statements contained in this release.